Alumni Spotlight
Below are stories on Political Science alumni. We would love to hear where your degree has taken you! Stay in touch with us and your classmates by filling out the Alumni Update Form.
Brooke Goggans
Co-founder of Mosaic Strategy Partners
Brooke Goggans has long experience working at the intersection of government and communications. After work in Washington, D.C., Boston, and Austin, she became the co-founder of Mosaic Strategy Partners, a Fort Worth-based Public Affairs and Strategic Communications firm. Mosaic creates targeted political and communications strategies using proprietary software to track data on issues, constituencies and legislation. Read the full spotlight here.
Forrest A. Nabors
Associate Professor of Political Science at the University of Alaska

University of Oregon (MS '08, Ph.D. '11 Political Science) alumnus Forrest A. Nabors recently published a book titled From Oligarchy to Republicanism: The Great Task of Reconstruction. Before becoming an Associate Professor of Political Science at the University of Alaska, Nabors followed a career as a high-technology business executive.Read the full spotlight here.
Leslie Miller
Marketing Manager for Europe and the Middle East

Leslie Miller's studies in political science to UO led her into global marketing, currently as Marketing Manager for Europe and the Middle East at the IT consulting company Bluewolf. Read the full spotlight here.
Akeel Qureshi
Director of Business Development
For Akeel Qureshi, the PS major gave him the skills in research, presenting, and imagining alternative solutions that have taken him from Berkeley, Beijing and London in tech-sector jobs. Read the full spotlight here.
Ian Fischer
PS Honors Student turned Clinical Counselor
While his original plan may have been to pursue a PhD. in History, Ian's leap into psychology "makes sense" because his Political Science honors thesis, "…zoomed in on religion and analyzed its role in relation to trauma, bereavement, and loss in the face of violent confrontation, and it became clear as I was writing it that I was less interested in the idea that religion played a role in peoples lives, and more interested in how it played that role." Read Ian's full spotlight here.
Jim Cupples
Civic Tech Leader Offers Current Students Internships
Jim Cupples found a passion for civic technology through a Political Science education and a career with NationBuilder as the BallotPath Project Lead. The work he is doing directly influences the education of our current Political Science students because of internship opportunities. Read the full spotlight here.
Jill Hazelbaker
Uber steals Hazelbaker from Snapchat
Jill Hazelbaker is in high demand. First she was poached by Snapchat and now Uber has stolen her for a key PR and policy executive position. Check out the Re/code article here and Jill's spotlight in UO's Cascade magazine.
 Stephen Gillett
Joins Google Ventures as Executive in Residence
Forbes article discusses Political Science graduate, Stephen Gillett's move from COO of Symantec to current Executive in Residence at Google Ventures. Read the full article here.
 Tucker Bounds
Honored with 2015 Distinguished Alumni Award
Friday, November 6th: Political Science graduate, Tucker Bounds (class of 2002) will receive the Distinguished Alumni Award at an evening ceremony in the Ford Alumni Center Giustina Ballroom.
According to 2002 political science graduate Tucker Bounds, being the national spokesperson of a presidential campaign is a lot like running a startup in Silicon Valley.

Sound like an odd comparison? Not to Bounds, the former national spokesperson for John McCain during the 2008 presidential election and the current co-founder and president of Sidewire, a political communications startup based in Silicon Valley… Read more on the UO Alumni Association page and featured article on Tucker and other exceptional UO alumni.
Chloe Talbert
Compromised By Colonialism?
Read the full article here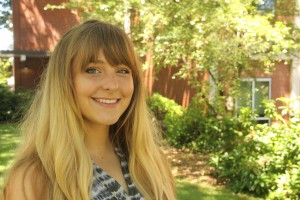 Majors: Computer and information science and political science
Mentor: Ron Mitchell, professor, political science
Less equipped to cope: In her research paper, Talbert (left) assessed how a country's history—namely, whether it was colonized or not—affects its vulnerability to climate change ills such as economic losses or natural disasters. In a review of China, Japan, Mongolia, and Indonesia, she determined that the latter two countries, which had been settled by a colonial power, are less equipped to cope. As with many colonized countries, Mongolia and Indonesia are still developing and have unstable education, infrastructure, health care, and governance systems—this hurts their ability to, say, provide emergency services during a natural disaster. The finding could be useful for predicting which countries are most threatened by climate change moving forward, Talbert said.
Oil, the great equalizer: While previously colonized countries appeared less able to recoup the economic losses of climate change, Talbert found two exceptions—Algeria and Saudi Arabia. Noting their large oil reserves, Talbert argued that worsening climate change is correlated with increased use of oil—which means profits, not losses, for oil-producing countries.
A helping hand: Mitchell worked closely with Talbert, fine-tuning her premise and pointing her to the relevant data and literature for her project. They jointly analyzed the information and mapped out how to present her findings clearly. "I didn't know quite how to research what I wanted to research," Talbert said. "He helped me figure out how to analyze everything in an organized, scientific way."
Political science meets computer science: Taking a deep dive into data analysis gave Talbert an appreciation for the similarities between her two majors. "Computer science is all about consequences—'How does this decision affect what the consequences are?'" Talbert said. "Political science is the same—'If this thing happens, what consequences will that have for who, and in what way?' That kind of logical, analytical thought ought to be applied everywhere."
Jeremy Strickler
Dissertation: Between Guns and Butter: Cold War Presidents, Agenda-Setting, and Visions of National Strength
Chair: Daniel Tichenor
Hometown: Tempe, Arizona
Quote: "Definitely Toby." (… as in this guy).
Like many articulate, quick-witted, ambitious undergraduates, Jeremy Strickler entered his freshman year at Northern Arizona University with the "grand design of someday attending law school." As a major in Criminal Justice he was preparing for a career in the legal field but one Political Science class derailed his future plans… Read the full interview article HERE.
Joshua Plencner
Superhero Scholarship: Doctor Plencner Earns His Cape
Dissertation: Four-Color Political Visions: Origins, Affect, and Assemblage in American Superhero Comic Books
Chair: Joseph Lowndes
Hometown: Fargo, North Dakota
Quote: "…and yeah, sure, some of us really do talk like that."
Recently hooded Joshua Plencner's research is anything but drab and dusty. Instead, it's shiny, innovative scholarship that packs a superhero punch. Doctor Plencner took a moment to share more about his dissertation, the graduate school experience, and his thoughts on Spider-Man's alter ego … Read the full interview article HERE.
Congratulations, Dr. Plencner!
Matthew Davis
Get Out the Vote
Somewhere there is a voter—perhaps a rural teen or poor farmworker—who could cast the vote that elects the next president or a state's newest senator.
Matt Davis finds these voters, registers them and gets them to the polls.
As the director of civic engagement for the League of Conservation Voters, Davis works to increase voting by people often overlooked by political campaigns. The job requires mining vast amounts of voter data, developing registration programs and designing sophisticated computer models to predict voter turnout.
"Communities of color, young people, unmarried women—it used to be campaigns didn't use money to engage them because they didn't think it was worth it," Davis said. "Today, there's more awareness these communities deserve a voice in the political process and make a difference in deciding Election Day."
Statistics, regression analysis and number crunching are the new weapons in campaigning. Davis was schooled heavily in them while earning bachelor's degrees in political science and economics at UO in 2014.
In a political science course on political methodology, he learned how to apply statistical methods to politics, using data to find and target voters who had been overlooked. An economics course on econometrics helped him measure and predict the effectiveness of campaign messages, strategies and funding.
For his thesis paper in political science, Davis examined the effectiveness of tactics he had employed during an Oregon Senate election to reach "drop-off voters"—people who voted during a presidential election but not the following mid-term.
Marrying his experience on the campaign trail with know-how in statistics, Davis and professors David Steinberg and Priscilla Southwell examined voter turnouts and campaign expenditures to determine which techniques packed the most bang for the buck in drawing people to the polls.
Previous research had concluded spending too heavily on local campaigns in a mid-term could be foolhardy because such efforts are overshadowed by heavily funded national campaigns. But Davis's thesis debunked the old school of thought: Spending on local campaigns can break through the media noise of national ones to reduce voter drop-off.
"It really helped me greatly with the work I do now," Davis said. "I had to think about creating an experiment from the beginning and carrying it through to the conclusion."
Based in the national nonprofit's D.C. office, Davis runs voter registration campaigns in 20 states, collaborating with partners across his region. They run computer programs to predict how effective their campaigns will be with certain groups and whether their efforts will be worth the expense in terms of voter turnout.
Davis used the political science department's flexible internship program to take several semesters off to work for a variety of Democratic campaigns. Under the program, he gained valuable real-life experience—and also college credit, for writing a 30-page paper explaining what the experience taught him about political science.
Through that program, Davis worked on premiere state campaigns including Measures 66 and 67—the new tax proposals on the wealthy and corporations were passed in 2010—and former Governor John Kitzhaber's successful 2014 campaign.
Davis' day-to-day work is a blur of email, conference calls and collaboration with partners to design programs to get out the vote.
"Communication is one of the most important things I learned at UO," Davis said. "Actually, I took an hour-credit course in grammar—and that helped me immensely."
Sam Adams
Former Portland Mayor Heads US Climate Initiative
Earth is heating up—quickly—and that spells trouble for the flora and fauna who call it home.
But Sam Adams, BA '02, who once pushed to make Portland the most sustainable city in the world while serving as its mayor from 2008–2012, could just end up saving it for future generations.
In January, Adams was named to lead the US Climate Initiative (USCI), a nonpartisan organization that could play a crucial role in halting Earth's warming and saving the planet for the generations to come. The USCI is part of the World Resources Institute (WRI), which was established in 1982 to promote sustainable ways of life and provides scientific data and advice to politicians worldwide on how they can legislate to protect Earth.
Adams has never shied away from addressing climate issues. As mayor of Portland he announced his goal to make the Rose City the most sustainable city in the world, then shrank its carbon footprint through the Clean Energy Works program, established curbside composting, and passed the Climate Action Plan and the "We Build Green Cities" economic development strategy. When the World Resources Institute tapped him to be the new director of its US Climate Initiative, WRI president and CEO Andrew Steer called him "a dynamic and savvy leader, who will invigorate US climate activities at a critical time for the nation and planet."
"The US Climate Initiative focuses on reducing and fighting climate change," Adams said. "[Last year] was the hottest on record, and the impacts of climate change are becoming more frequent and more severe, at increasing cost to businesses, consumers, and public health.
"Our focus is on research and analytics, to inform decision makers to take action on climate change in the US and beyond."
Read the full article on the UO Alumni website.
Julia Stafford
From Internship to Career
Julia Stafford graduated as a Political Science honors student in June 2013. She recently contacted the department about an internship opportunity similar to the one she participated in right after receiving her bachelors degree,
… I work for Congressman Schrader because of an internship just like this one. I interned for one of our Senators out here in Washington, DC, during the fall after I graduated from UO. Because of that experience and the connections I made, I came up for consideration for an open position. While I cannot, of course, guarantee that all  students will get a job after their internship, nearly all Congressional staffers started as interns; it is the foremost way to get your foot in the door.
Julia's career in Washington D.C. is off to a fast start. She began as a Staff Assistant in Congressman Schrader's office and while she continues to supervise interns and lead tours of the White House, U.S. Capitol and Library of Congress for constituents, she is now Congressman Schrader's scheduler.
I work with constituent groups and outside organizations to create opportunities for them to meet with the Congressman. Though my position is primarily administrative in nature, I am learning so much because I need to be very aware of what is happening at the Capitol so that we can adjust the Congressman's schedule accordingly. In many ways it can be a constant logic puzzle: votes, committee hearings, phone calls, and last-minute meetings guarantee that the schedule I prepare every day is constantly shifting and looks very different by the time we leave in the evenings. It's an honor to work closely with Congressman Schrader and my senior staff, and a great opportunity to connect our office with the stakeholders and organizations who have Oregon's best interests in mind.
From congressional baseball games to charity receptions, Julia's personal schedule is very busy but she is loving every moment.
Julia is excited about her new role in Congressman Schrader's office and our guess is she will have moved up into another position the next time we hear from her.
Congratulations Julia! We look forward to watching your career soar.
For information on internships please see our Facebook page or visit the Vorpal Sword on Blackboard. 
Information on internships in Congressman Kurt Schrader's office can be found HERE.
Greg Krupa
From "Lawyers without Boarders" in Guatemala to a Global MBA program in Chile 
After graduating with a Bachelor of Arts in Political Science and a minor in Planning, Public Policy and Management in 2011, Greg left for Guatemala where he worked for Lawyers Without Borders doing human rights and war crimes' litigation. Greg served as an adjunct research assistant to UO Law Professor Michelle McKinley. Greg describes the work as, "amazing and eye opening." He participated in a number of important paradigmatic cases, including the indictment and later conviction of Rios Montt (the first head of state to be convicted of genocide in a domestic court) on human rights violations and genocide. However, this was overturned 10 days later by the Supreme court. When discussing this case, Greg's conviction for human rights and the prosecution of those who violate them was evident. His experience with Lawyers Without Boarders clearly fueled his passion for justice and continues to play a part in his education, volunteer work, and business pursuits. Greg's blog entries from his time in Guatemala can be found here.
After Guatemala Greg moved to Quito, Ecuador where he worked with Range of Motion Project and helped establish Krupa O&P, a wholesale distribution of prosthetic, orthotic and orthopedic medical equipment. After growing Krupa O&P into a successful business Greg moved to Santiago, Chile to start a Global MBA program through Tulane University and La Universidad de Chile which he will finish this coming June.
When asked why he was interested in graduate school in Chile, Greg replied, "I was interested in the program because it allows me to receive a master's level education in Latin America, while still receiving a MBA from a top-tier program in the US… Chile is a magnet for global commerce and has the highest per-capita income in all of Latin America. It also has been growing more rapidly than the industrialized markets during the economic downturn…"
Greg's passion for human rights also played a part in his graduate school choice, "…thankfully not as bloody as the civil war era in Guatemala, Chile suffered a dictatorship, Pinochet, that led to many human rights violations, disappearances, and murders perpetrated by the state. I am interested in the post-war reconciliation, much like that of Guatemala, and would like to do some work/study in the field of historic memory while here."
His love for the active outdoor lifestyle was also influential, "…the country is geographically compelling — mountains, to hundreds of miles of coast, to glaciers. My original passion as a child was marine biology, so I hope to spend some weeks out at the University's famous marine biology conservation coastline, participating in their studies."
Greg is also a diver and took several diving courses while at the UO. He hopes to finish his master diver certification while in Chile.
In addition to his education and career goals, Greg is committed to a lifestyle of volunteering. He has participated and helped organize "Riding for ROMP" with rides from Kansas to Wisconsin (2008) and Eugene to Guatemala (2010). ROMP stands for "Range of Motion Project" which aims to increase U.S. awareness of the lack of rehabilitative medicine throughout the world and help provide prosthetic limbs and orthopedic braces to those who cannot afford or do not have access to these services around the globe. For Greg, ROMP is a lifelong commitment, "ROMP has a vision of eliminating disability. I would like to be a part of that vision."
Greg also helped produce the documentary film "Keep Your Eyes on Guatemala", which is about the Historic Archive of the National Police and their role in preserving historic documents for the sake of criminal prosecution, justice, and historic memory. The film is available in English and Spanish.
Picture of Greg in the Historic Archive of the National Police (where millions of records are being digitized to compile evidence against police operatives for human rights abuses from during the war) while helping film the documentary, Keep Your Eyes on Guatemala, with a group of UO professors.
John Anthony Martin
Duck Flies Home to a Fantastic Future
One of the most rewarding aspects of life here at the Department of Political Science is watching our undergraduates grow in confidence, find direction and fulfil their potential. When we see our students at their graduation ceremonies, we know they will do well, and we look forward to hearing about their achievements.
One student we remember fondly is John Anthony Martin (known as Anthony) who graduated with a major in political science, in June 2013. After finishing his program at Oregon, Anthony was admitted to study in a Master's program at the University of Texas, from which he has recently graduated in Public Affairs.  While completing his studies, he worked as a researcher for the Texas Department of Transportation, and as an auditor and investigator for the City of Austin.
Reflecting on his time at UO, Anthony commented that he greatly valued the education he received, the extra-curricular opportunities, and the opportunity to learn about many of the issues which influenced his career goals. He continued, "the classes gave me a broad knowledge in a lot of areas [and] the senior thesis was a very important experience in my academic career." Anthony credited the mentorship of Professors Ron Mitchell and Karrie Koesel for making his time at the University of Oregon meaningful and enjoyable. "One great piece of advice I received from my professors," recalled Anthony, "was to tie information from several subjects together. Professor Mitchell taught me how to look at a problem from several different academic perspectives which is necessary for large political problems."  He praised the advice he received for helping him to forge a path towards his ideal career, which has taken him, in two short years, to full-time employment as an analyst for a public sector consulting firm in Oregon.
Professor Mitchell commented that mentorship is an important part of the Oregon experience, "Working closely with undergraduate students in writing-intensive classes and on honors theses is one of the greatest pleasures of being a faculty member. In Anthony Martin's case, he wrote a first-rate honors thesis investigating the effects of social movements that "failed." But what distinguished his work was the insights he gained by recognizing that social movements that fail to achieve their nominal and immediate goals may, nonetheless, have deep and lasting influences on the political landscape in which they operate. Working closely with young scholars like Anthony allows faculty to see the bright future of political science." When asked what he would say to prospective students who might be considering Oregon, and political science, Anthony replied that, "I think a political science education offers students the ability to have a broad and adaptive education. I was able to take courses in several other departments (particularly religious studies and Spanish) and then integrate all of my education under the umbrella of political science. Also, political science is applicable to daily life because politics is everywhere. I think that an Oregon education offers new perspectives on thinking and ways to think. I would not be where I am without the education and guidance from political science professors."
We are not at all surprised to learn that following his adventures in Texas, Anthony has chosen to return, and it is lovely to have him back in our beautiful state with an exciting career ahead of him!